Best Niche Perfume Brands in Dubai
Jun 14 2022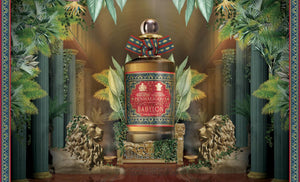 Niche perfume is not a mass product. It is a product that tends to "sell itself": the niche perfume brand does not look for you; you look for it. This is why it is usually found in unique, carefully chosen points of sale like Perfume Dubai, and appeals to the shopper who is looking for a different, unique fragrance with character and personality.
What is a niche fragrance?
A niche perfume is the fruit of creativity and originality. The master perfumer who creates a niche perfume enjoys a lot of artistic freedom to produce it. It is therefore a work of art intended for a limited number of customers who are truly passionate about perfumery, who appreciate the uniqueness of these unconventional scents.
Moreover, a niche perfume has its own exclusive essences and raw materials, which are far from conventional. Also, niche perfumes are not mass produced, so the chances of finding someone else wearing them are much more difficult.
In short, they are totally special and unique creations that invite you to broaden your olfactory horizons.
Is niche perfume better?
Small niche brands often save on packaging and marketing. This allows them to use more noble ingredients. So you pay more for the product itself and less for everything around it.
While these brands obviously need to be profitable to survive, they have one significant advantage: they only have to find a limited number of customers for their products each year. This means they can be more creative. Their scents don't need to appeal to millions.
Real niche perfumes are more original and contain more expensive ingredients. You get more for your money, but above all, you are buying a personal and unique product, made with love and devotion.
What is the difference between designer and niche fragrances?
Designer fragrances are perfumes of big, luxury companies, especially fashion houses, which can be found in almost all department stores, airports and perfumeries. These brands appeal to a wide audience, and even more so in marketing campaigns with models or famous actors to make their perfumes even more appealing. Launching a new fragrance is like releasing a new movie: the risks are high and they want to be sure it will be a blockbuster.
Niche perfumes are perfumes from small companies that only manufacture perfumes (and sometimes other scented products like candles). They generally hire external perfumers for the creation of their fragrances.
Best niche perfume brands: Our top pick
1- Tom Ford Brand   
The ingredients used to create Black Orchid are all black in shade and give this perfume an incredible depth. Black truffle and black orchid appeal to the senses and turn you into a provocative, hard to resist woman.  
Luxurious and bold, Jasmin Rouge is a rare perfume for rare people who like to leave a mark. Unexpected sambac jasmine blends with precious spices like pepper berries and cinnamon to give body and strength to this unique fragrance.
Tom Ford Noir captivates you with its atypical notes of leather and bergamot. Woody, spicy and powdery, this fragrance is softened by gourmet vanilla. Its heart of Tuscan iris magnetizes the man who wears it. The bottle represents the perfect allegory of power: a monolith, sober and imposing at the same time.
2- Memo Brand 
The founders of Memo Parfums, Clara and John Molloy met in 2005. Memo is their adventure, an olfactory collection with different sensory destinations. Memo perfume reflects the possibility of a magical journey; always extended, always renewed. The idea of imagining the bottle as a destination seduces them. Memo Parfums is a bottle of condensed memories; memories of wanderlust; memories of travel and discovery. Each Memo perfume evokes a place, a story. We've selected our favourite, available on Perfume Dubai.
With the Sintra Perfume, Memo takes us to Portugal, where the freshness of orange blossom blends with gourmet notes of marshmallow and vanilla.
Moroccan Leather perfume from Memo is a cradle of spices and leather. In the alleys, the flowering trees, the orange trees, the ylang-ylang transport us to the heart of the Medina. Moroccan Leather is a true oriental journey.
3- Mancera Brand
Mancera was composed to appeal to lovers of western and oriental scents. The fragrances combine a typically French aesthetic with luxurious inspirations. The elegant bottles are made of stylized materials with coating in gold, wood, mother-of-pearl and various metals. Each bottle is made to order from high quality crystal glass by Luigi Bormioli, an Italian company that creates Renaissance products. 
Intense and subtle, sexy and sophisticated, Mancera Wild Leather is a scent designed to captivate. It's a powerful and charismatic fragrance with top notes of bergamot, heart notes of patchouli, Bulgarian rose and violet, and base notes of leather, oak moss, guaiac wood, white musk and amber.
Gold confirms its richness and oud all its splendour in a journey through the golden and burning deserts of Arabia. A hypnotic fragrance with woody and musky accords, Mancera Gold Aoud has top notes of citrus, black pepper, saffron and oud from Nepal, heart notes of Bulgarian rose, jasmine and patchouli leaves, and base notes of precious wood, leather, amber, vanilla beans and white musk.
4- Creed Brand
Seductive and refined, Millesime Imperial by Creed is an elegant fragrance for men and women. Awakening to top notes of bergamot, blackcurrant and violet leaves and blackcurrant, this fragrance reveals a delicate heart of iris with salty accents before concluding on a luxurious base of sandalwood, cedarwood and musk.
Created to celebrate 250 years of House of Creed, Creed Aventus has become the world's number 1 fragrance for men. Sensual, bold and contemporary, this rich and iconic fragrance combines bewitching top notes of lemon, pink pepper and Italian bergamot with a fresh and floral heart of juicy pineapple, delicate jasmine and Indonesian patchouli. Woody base notes include oak moss, cedar and ambergris -House of Creed's signature ingredient.
5- Amouage Brand
Classic and sophisticated, Amouage Gold is an oriental, classic, rich, sophisticated fragrance, created for the most special and prestigious evenings. Top notes of rose, lily of the valley and silver incense, heart notes of myrrh, iris and jasmine, and base notes of ambergris, civet, musk, cedarwood, and sandalwood.
Amouage Fate for men reveals all the charm of oriental scents. The secrecy and the touch of mystery that radiate from it arouse the curiosity of all those around you. A spicy and woody oriental fragrance, Amouage Fate is created for men who are not afraid to be themselves. An exceptional perfume with top notes of caraway, absinthe, mandarin, ginger and saffron; heart notes of incense, copaiba balm, cistus, lavandin, immortelle and rose, and base notes of Tonka beans, sandalwood, musk, cistus, liquorice and cedar.
6- Penhaligon's London Brand
The rising sun over Cairo brings warm saffron spice. Soon life kicks off. Damascus rose and labdanum bloom above sensual patchouli. Cairo city is old, but it is reborn every day through this enchanting scent. Penhaligon's Cairo opens on top notes of Damascus rose and saffron with heart notes of labdanum cypriol and base notes of Sri Lankan sandalwood and atlas cedarwood.
Reminiscing the majestic marvel of the ancient world of Babylon, Penhaligon's Babylon, just like its eponymous city, is fragrant with warm vanilla, cedar and saffron.
Like a mystery left unsolved, the fascinating scents of this unique fragrances envelope you in a mystical aura that no one can resist.
With top notes of nutmeg, saffron and coriander, heart notes of cypriol essential oil and base notes of vanilla, cedar and sandalwood, Penhaligon's Babylon is simply divine.
7- Van Cleef Brand
Ambre Imperial is a luxurious and addictive fragrance, unforgettable and voluptuous. You will be instantly seduced by the bewitching aura of a powerful amber exalted by precious aromas of vanilla, benzoin and roasted Tonka beans. The perfect combination of different symbolic essences of the orient, mythical and historical cradle of perfumes. Precious ingredients have been carefully chosen to recreate the quintessence of real amber, a mixture of sweet and spicy sensations. Top notes of bergamot and pink peppercorns; heart notes of cinnamon bark from Laos and benzoin; base notes of amber and Tonka beans.
A skin-deep Patchouli poetry, a marvellous dance between shadow and light... the olfactory interpretation of a moonlit flower field, enhanced by exceptional raw materials. Top notes of bergamot and pink peppercorns; heart notes of rose and iris; base notes of patchouli and suede accord.
If you're looking for niche perfumes Dubai, then you've come to the right place! Our selection boasts the latest and greatest, as well as all the classics! Be unique; shop the best niche perfumes on Perfume Dubai and enter a world of exclusivity!
You'll also like:
---