Best Spring Fragrances for Men
Mar 14 2022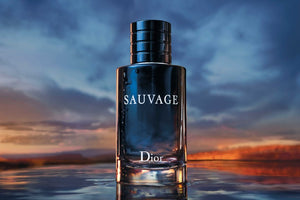 Before you know it, spring with its beautiful colors and invigorating scents will come knocking at your door. As the seasons change from winter to spring, it's important to switch your colognes as well, because what soothes the senses in December is far different from what smells just right in April.
If you're wondering what scents are associated with spring, well, spring and summer scents are fresh, floral, and fruity. As temperature rises, you're going to want to swap in some hot and spicy fragrances to floral, aromatic scents. Look for ingredients like mandarin and orange, vetiver and bergamot; the best spring colognes will freshen you up, in a reviving kind of way.
However, choosing the best spring perfume for men can get overwhelming if you don't know where to start. But don't look too hard.
We already did that for you. You're certain to find a fresh-weather companion just in time for spring season. If you're looking for the best spring fragrances for him, then take a look at our roundup of the best spring cologne for men!
And in case you missed the ladies' version of our Spring Fragrances for Her, well, it's never too late, you can always check it again!
The Best Spring Fragrances for Men
Eau De Toilette

Dior Sauvage has a radically fresh composition and a powerful name that speaks for itself. That was the way François Demachy, Dior Perfumer creator wanted it: raw and noble all at once. Natural ingredients, selected with extreme care, prevail in excessive doses. Its top notes burst with the juicy freshness of Reggio di Calabria Bergamot while Ambroxan, derived from precious ambergris, unleashes a powerfully woody trail.

Dior Sauvage is an act of creation inspired by wide-open spaces. An ozone blue sky sprawled above a rocky landscape, white-hot beneath the desert sun.

Notes: Lemon, Bergamot, Basil, Rosemary, Caraway, Jasmine, Coriander, Orris Root, Carnation, Patchouli, Sandalwood, Rose, Oakmoss, Vetiver, Musk and Amber.
   

Eau de toilette

Armani Privé Thé Yulong strikes a perfect balance between the freshness of green tea and citrus, and the intensity of black tea and smoked woods. Known for its tea trees that grow high in altitude and its magnificent landscapes, the Yunnan region is home to one of the most beautiful black teas, interpreted by the Armani Privé collection in this bottle.

Paired with Sencha, a traditional Japanese green tea, the fragrance swirls smoky notes into green facets, backed by an impression of radiant freshness delivered by citrus notes. Armani Privé Thé Yulong offers a bolder, more modern olfactory expression defined by contrasts between curves and sleekness, light and shadow, raw and refined, modernity and craftsmanship.

Notes: Mandarin Orange, Cardamom, Petitgrain, Green Tea, Black Tea, Jasmine, Orange Blossom, Vetiver, Ambrette (Musk Mallow) and Iris.
  

Eau de parfum

Bottega Veneta Parco Palladiano V Lauro is a fresh and masculine fragrance containing a bouquet of aromatic notes. It evokes a moment of relaxation in the shade of an ancient tree in the late afternoon, an image enhanced by its crisp green color.

It conjures up a walk towards the aromatic herb gardens near a villa. The tree path provides brief shadow and adds to the scent of this perfect mid-afternoon moment. Woody, slightly spicy, the aromatic breeze combines the crispness of laurel with sturdy rosemary and soft sage leaves.

Each bottle reflects the traditions of Bottega Veneta and the Veneto region: the flacon itself is inspired by classic Venetian glasswork, an aesthetic that defines the Bottega Veneta fragrance house; the glass bottle with a silver cap features an embossed Intrecciato pattern, delicately hand-finished.

Notes: Mint, Cistus, Bay leaf, Rosemary, Sage, Geranium, Pepper, Tea and Vetiver.
  

Eau de parfum

The exceptional Creed Aventus was inspired by the dramatic life of a historic emperor, celebrating strength, power and success. Introduced in 2010 and crafted by the deft hand of Sixth Generation Master Perfumer Olivier Creed in collaboration with his son Erwin, this scent has grown to become the best-selling fragrance in the history of the brand.

Olivier created its iconic name derived from "ventus", meaning "the wind", illustrating the Aventus man as destined to live a driven life, ever galloping with the wind at his back toward success. Creed Aventus is a sophisticated blend for individuals who savor a life well-lived.

Notes: Bergamot, Blackcurrant Leaves, Apple, Pineapple, Pinkberries, Birch, Patchouli, Jasmine, Musk, Oakmoss, Ambergris and Vanilla.

 

Wondering which Creed Perfume is the best, look here at the Best Creed Perfumes

Check it  here
  

Eau de toilette

Chanel Allure Homme Sport is the allure of freedom by excellence. An elegant and refined composition for a fresh-sensual fragrance that exalts the scent of bare skin in the open air. Chanel Allure Homme Sport composition plays on the tension between freshness and sensuality. The sparkling freshness of Italian mandarin, heightened by a crystalline accord, blends into the clean, intense notes of cedar. Sensual, almondy Venezuelan tonka beans teamed with the enveloping notes of white musk produces a deep and intense trail.

Notes: Italian Mandarin, Cedar, Venezuelan Tonka Beans and White Musk.
  Eau de parfum

The Yves Saint Laurent Y perfume represents the man who has already realized his dreams, but who never ceases to rejoice in the future and to set himself new goals. He is not afraid of the challenges that come his way and does not take anything lightly. He never stops and he always goes beyond his own limits with the greatest pleasure. Bold, light, sensual… Yves Saint Laurent Y Eau de Parfum is a highly masculine scent, a fragrant interpretation of the iconic Yves Saint Laurent white T-shirt and black jacket. It is an intense portrayal of masculinity in a sophisticated perfume. It offers a whole new definition of masculinity. It is stronger and more
intense than the eau de toilette of the same name released in 2017 and it opens a new chapter in the history of men of generation Y.
Notes: Bergamot, Ginger, Juicy Apple, Aldehydes, Sage, Wood, Juniper, Lavender, Geranium, Vetiver, Amberwood, Frankincense and Tonka Beans.

 
Did you know?
Fragrance is a generic term used for perfume.
Want to impress people with your fragrance knowledge? Know that fragrance is unisex, comes in many forms and is called different names but generally falls into these categories:
Eau Fraiche. The most diluted version of fragrance, usually with 1-3% perfume oil in alcohol and water. Usually lasts for less than an hour.
Cologne (Eau de Cologne). Oldest term for perfume, used in North America for masculine scents. Light, fresh, and fruity, typically composed of 2-4% perfume oils in alcohol and water. Tends to be used in fragrances for younger people. Usually lasts for about 2 hours.
Toilette (Eau de Toilette). A light spray composition with 5-15% pure perfume essence dissolved in alcohol. Usually lasts for about 3 hours.
Perfume (Eau de Parfum). Historically genderless, used to describe both men's and women's products, and is the best term for describing a fragrance. (I'll be using cologne more in this post though, simply because that's the term most readers associate with fragrance.) Contains 15-20% pure perfume essence and lasts for about 5 to 8 hours.
Parfum. A corruption of the Latin phrase per fumum (through smoke). The most concentrated and expensive of all fragrance options. Slightly oilier, parfum (or perfume; you can see how these terms get confusing!) is composed of 20-30% pure perfume essence. A single application can last up to 24 hours.
Perfumes and fragrances help us celebrate seasonal shifts, like the transition from an often gloomy winter to the vibrant, hopeful feeling that comes with spring. Find yours today at Perfume Dubai and and don't forget to check the Best Spring Perfumes for Her!
You'll also like:
Best Spring Perfumes For Women
---