The Most Popular Perfumes of All Time
Jul 17 2021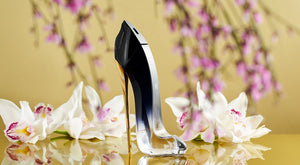 Perfume brands regularly launch new fragrances to appeal to men and women and stand out from competition. However, and despite the passing decades, some perfumes remain a cult. So much that they stand the test of time and are passed down from generation to generation.
Here's our selection of the most popular perfumes of all time
 

 

When Christian Dior created his fashion house in 1947, he imagined a new femininity, a total femininity to which nothing would be missing. Today, from dresses to accessories, from perfumes to lipsticks, to the most expert treatments, the Dior house sublimates the beauty of women and brings shine and modernity to it.

The adventure of Dior perfumes for men and women began at the same time as the creation of the brand, in 1947. Christian Dior instantly realized that it was essential to accompany his most beautiful dresses with an intoxicating scent to perfect their femininity. From then on, Christian Dior perfumes stood out for their influence and their noble and rigorously selected raw materials.

 
 

Irresistibly fresh and aromatic, the success of this fragrance lies in its first notes full of vitality, as if a wave of the ocean, fresh and powerful, were depositing its essence on your skin. An experience that will not leave you indifferent. especially if you are an adventurous, reckless man, full of vitality and determined. Its distinctive mark results from an aromatic tandem of marine top notes, touches of mint and coriander.

After the first few minutes, this fragrance offers an enveloping heart of sandalwood and jasmine. This is followed by a pleasant sensation that transforms its aromatic vigor into a delicious caress, like the soft foam of waves. The final touch of musk makes this fragrance an ideal fragrance for every day, which far exceeds the expectations of a conventional cologne, intact on the skin throughout the day.

This best seller perfume, created in 1988, remains a world reference due to its timeless character, ideal for the night. A summer perfume, this fragrance is specially recommended for the night, on the hottest evenings of spring and summer, because of its aquatic character and its fresh notes. Daring, fresh and modern, it's as if it was especially created for men in Dubai!
 

Progressive, innovative and very trendy, the Gucci brand has guided the fashion world for almost 100 years. Its modern yet electric products are the pinnacle of Italian art, they are real olfactory gems characterized by quality and attention to detail. The history of the brand dates back to the year 1921 when Guccio Gucci established his leather workshop. He probably had no idea then that his name would become a true legend that would dominate the world of fashion.

Today, the Gucci brand no longer shines only on the catwalks of fashion shows, its collections have expanded and include many fashion accessories, including cosmetics and perfumes. The best known of these are certainly the aromatic perfume for men Gucci Guilty or the very romantic floral perfume for women Gucci Bloom.
 

Tom Ford is an American fashion designer, originally from Texas and born in 1961 in Austin. He started work at Gucci as a designer in the early 90s and quickly became artistic director as he imposed his ideas and his style in a Gucci house on the verge of bankruptcy. The success was there and the biggest pop stars of the time adorned the clothes of the Italian brand. In the early 2000s, the stylist left Gucci to oversee ready-to-wear at Yves Saint Laurent. In 2005, he created his eponymous brand and, always passionate about perfumes, he launched his brand Tom Ford Parfum.

Inspired by the great post-80s perfumery of which he seems to be nostalgic, he creates raw perfumes for men, fragrances for women and unisex scents; original, glamorous and sexy fragrances with high quality raw materials. The best known are his first perfume Black Orchid, his thirty unisex Private Blend fragrances which he describes as his olfactory laboratory, or more recently the perfume Oud, Velvet Orchid, Tom Ford Noir, Néroli Portofino or even Tobacco Vanille.
 

The Versace brand is more than just a symbol of Italian luxury and timeless style marked by a touch of extravagance. Its fashion accessories and fragrances signed with the iconic Medusa logo combine a modern lifestyle with a love for Italian tradition and family heritage. he history of this luxury brand dates back to 1978, when it was founded in Milan by progressive and extravagant fashion designer Gianni Versace. Its unique style has aroused the interest of many admirers around the world. That's how the Versace brand has become one of the most famous fashion houses in the world. The first Versace fragrance, Gianni Versace for Women, was released in 1981.

Today, the Versace range of scents for women and cologne for men has now grown to include dozens of compositions. The most popular Versace fragrances for men today are the highly aromatic Versace Eros Eau de Toilette, Dylan Blue and Versace The Dreamer Eau de Toilette, and the characterful Versace Eros Flame Eau de Parfum. Women all over the world have fallen in love with the legendary fruity and floral scent Versace Bright Crystal or the floral and woody fragrance Versace Versense. Versace fragrances for women presented in a box with other beauty products are also very popular in Dubai and worldwide.
 

 

Creed perfumes are made from the most qualitative, most sought-after olfactory ingredients and almost exclusively from natural ingredients of excellence. The Creed House was founded in 1760 and remains a family business, passed down from father to son. Each year, Olivier Creed and his son travel the world in search of the rarest raw materials. From Calabrian bergamot to Indian sandalwood, including Egyptian iris and Bulgarian rose, both smell the most exclusive productions to obtain the best ingredients available.

Aventus by Creed is a scent that is both powerful, conquering and airy like a knight of modern times where herbal scents rub shoulders with Bergamot, Blackcurrant, Apple and Pineapple. With aromas of Patchouli, Birch, Jasmine and Pink Berries, the heart underlines an adventurous temperament. Amber Gris, Vanilla and Oakmoss exude a lot of sensuality in the background. Dubai knights love Aventus, a bold fragrance full of nuances.
 

Elegance, glamor and timelessness. Two personalities behind a great brand: mother and daughter. Both are inspired by the universe of New York, cosmopolitan, urban, and seductive. Carolina Herrera's fashion and fragrance designs are true modern and timeless classics. Her style, elegant and sensual, combines a very couture refinement with a touch of South American inspiration, especially on the brand new "Good Girl" line.

Reveal the "Good Girl" in you, through the luminous freshness of Tuberose and the sensual trail of Jasmine Sambac! And dare to assert your "Bad Girl" side in the bewitching scents of Tonka Bean and Cocoa. Powerful and full of confidence, Carolina Herrera's Good Girl Eau de Parfum captivates the Dubai ladies with its determination. The world is yours! Conquer it with the right perfume!
 

What are the secrets of the British Aristocracy? Are they as educated, courteous and polite as they claim? "Portraits" is a tribute to the English spirit, starting with its main character: Lord George. Traditional in appearance, Lord George hides his game well. His credo? Never let anyone guess what's on his mind. Respectable in every way, his loyalty to the King and to the Empire is unwavering. His perfume? masculine and elegant with a hint of rum; powerful, rich and inviting. A fragrance for any man who straddles his reputation, despite his little secrets.
You'll also like:
---