Best Summer Fragrances For Women
Sep 09 2021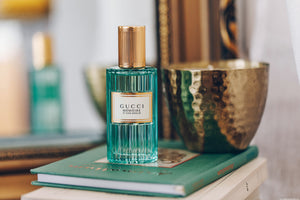 Each season brings with it its own set of seductive scents, evoking powerful emotions, memories and experiences. Much like swapping your dark nail colors for brighter, sunnier shades, summer calls for upgrading your scent wardrobe with the proper summer perfume.
To help you choose your sunny scents, we have compiled a list of the best summer perfume for summer! Take a look.
  

Eau de Parfum

The dazzling YSL Mon Paris Eau de Parfum for women is the expression of a beautiful moment set in the most romantic city in the world: Paris. The delicate aroma of juicy fruits envelops you in an attractive aura from the top notes. You will find sweet strawberries, playful raspberries, sultry pear and orange accords. The heart of this fragrance is full of bewitching floral essences. Sensual jasmine pairs well with peony. At the base notes, it's the moss, cedarwood, gourmet vanilla and sensual white musk that bring the dance to a close.
  

Eau de parfum

Gucci Mémoire d'Une Odeur Eau de Parfum opens the door to memories, experiences, and blasts from the past. It evokes and brings back all the unforgettable moments that you once lived. Gucci Mémoire d'une Odeur is an elixir that goes beyond the genre in its individuality. Challenging the traditional olfactive families that classify fragrances, Gucci Mémoire d'une Odeur creates a new one: Mineral Aromatic. The opening notes are those of Roman chamomile that mix with the essences of wood. Cedar and sandalwood are then complemented with musk and jasmine. This intensity remains very present until the vanilla base notes appear.
  

Eau de Parfum

Acqua di Gioia Eau de Parfum for women is a captivating fragrance that caresses your senses with notes of jasmine, transporting you to the lively Mediterranean, where people are warm and where joie de vivre is contagious. A fragrance that symbolizes happiness, harmony and authenticity. Top notes of juicy citrus are balanced by white jasmine blossoms that sweep you away on immense waves of freshness. These delicate notes are complemented at the base by a pleasant harmony of earthy cedar and brown sugar.
  

Eau de Parfum

The luxurious Calvin Klein Eternity Moment Eau de Parfum for women will be your summer companion. Its floral composition will make you feel attractive and feminine wherever you are.

First, you'll be transported by a juicy cocktail of raspberries, lychee, melon and guava. They are then completed by a very elegant flowery heart where you will recognize the water lily, the sweet peony, the sensual jasmine and the passionflower flower. This composition is underlined by woody accords while the musk present in the base notes has the power to awaken your sensuality.
  

Eau de Parfum

Chanel Chance is feminine, sophisticated and elegant. Fruity floral with key notes of grapefruit, quince, rose accord and white musk, it reflects the timeless sense of style and attention to detail, so characteristic of Chanel as a brand. It opens on top notes of hyacinth contrasted with a slightly spicy pepper, followed by tender jasmine and iris. The sensual base notes include amber, musk, gourmand vanilla and patchouli.
 To everything there is a season and for every season a scent! Discover the Best fall, winter and summer fragrances! Take a look
You'll also like:
Best 7 Winter Perfumes for ladies
Best Spring Perfumes For Women
---