Best Christmas Gifts for Men and Women
Nov 30 2021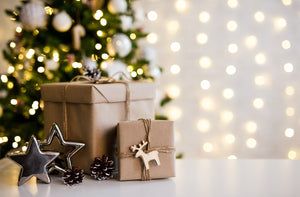 Christmas is coming, and it will soon be the season for gifting, but also the season of "What should I get him?" and "What should I get her?"
So don't waste time trying to find the best gift ideas. If you're lacking inspiration, remember there is a Christmas gift that works every time: perfume! Everyone, and we mean everyone, loves to unpack a perfume present.
In this article, we explain why perfume is the perfect Christmas gift for men and women and help you level-up your gifting game.  
PERFUME IS YOUR EVERYDAY COMPANION
First of all, everyone (or almost everyone) uses perfume every day. Some just wear it for special occasions. But most people use it every day. It is therefore primarily a useful gift in the sense that it will not end up in the back of a drawer.
PERFUME IS A SPOT-ON CHRISTMAS PRESENT
If your mother, daughter, wife, sister of bestie has been wearing the same perfume for years, you can be sure that your Christmas 2021 gift will hit home. That's what we call a "safe bet"!  
PERFUME IS ONE OF THE BEST GIFTS FOR MEN
It is usually harder to pick a present for the man in your life. Be it your brother, father, grand-pa, colleague or husband, a perfume gift on Christmas will make his day!
 

Eau de parfum

ADD TO BAG

 

Intense is an invitation to experience the special moments in life with even more intensity.  My Way Intense from Armani keeps these moments in your memory forever, giving them a unique scent through its enchanting aromatic composition: A sensual floral and woody fragrance that will seduce her with a brilliant combination of white orange blossoms and bitter orange essence, followed by a creamy and velvety tuberose, hand-picked in India. The base notes that are felt last are composed of vanilla and sandalwood and enhance the sensuality of the fragrance.

Perfect Gift Idea for Romantic Women

With its dreamy floral notes, My Way Intense from Armani is the ideal Dubai gift for romantic women.



Eau de parfum

ADD TO BAG

 

Idôle Aura from Lancôme is a garden covered in wonderful flowers. The Lancôme Idôle Aura eau de parfum for women enchants with an aroma composed of the floral notes of the Damascena rose and bourbon vanilla that immediately brighten her day while providing a perfect floral scent.  

Perfect Gift Idea for Independent Women

Enhancing the sensuality of each woman, The Lancôme Idôle Aura eau de parfum is the ideal Dubai gift for independent women.

 
 

Eau de parfum

ADD TO BAG

3- Armani Jawhara Orientale 

 

Armani Jawhara Oriental is a captivating oriental woody fragrance in which intense shadows meet warm light, reflecting the rich culture of the Middle East.  Meaning jewel in Arabic, the fragrance's name echoes the precious inspiration and mystical olfactory composition.

The fragrance opens with spicy notes that blend with an enigmatic incense effect, created with notes of soothing iris and aromatic, resinous myrrh. At the fragrance's heart is a duo of resinous elixirs:  opoponax resinoid and ciste labdanum absolute, combined with ambroxan. At the base, guaiac wood oil, creamy cedarwood oil heart, a warm vanilla bourbon infusion exclusively crafted for Giorgio Armani, and an ambery woods accord blend to create a smoky, sensual effect.

Perfect Gift Idea for Daring Women

Creating the perfect mood to accompany her on an opulent, timeless journey, Armani Jawhara Orientale Eau de Parfum is the ideal Dubai gift for daring women.

 
 

Eau de parfum

ADD TO BAG

 

The perfume with a capital P, Chanel N°5 eau de parfum was the perfume that the legendary actress Marilyn Monroe could not sleep without.

Pamper the women in your life this Christmas with the most famous perfume in the world! An incomparable and unsurpassed aroma that prove, decade after decade, that elegance and feminine charm never go out of style.

Perfect Gift Idea for Iconic Women

Chanel N°5 perfume conquered the world and became one of the best-selling perfumes ever. It is the ideal Dubai gift for Iconic women.

 
The Top Perfumes Christmas Gifts for Him
     

Eau de parfum

ADD TO BAG

 

Sauvage Elixir is a concentrated fragrance steeped in the emblematic freshness of Sauvage with an intoxicating heart of spices. Top notes are cinnamon, nutmeg, cardamom and grapefruit; middle note is lavender; base notes are licorice, sandalwood, amber, patchouli and Haitian vetiver.

Perfect Gift Idea for Unusual Men

Sauvage Elixir from Dior is the ideal Dubai gift for unusual men who are everything but ordinary.

 
   

 

 

Eau de parfum

ADD TO BAG

2- Roja Elysium Pour Homme Cologne

 

Elysium Cologne from Roja Dove strikes the perfect balance between easy-going lightness and sophisticated strength of character. The cologne opens with a prominent freshness that lasts all day, as a bright burst of citrus and herb notes, further lifted by an innovative musk top note. A juicy splash of apple, blackcurrant and juniper berry continue this vibrant personality, which dries down into a base of extreme depth and masculinity. Iconic pink pepper resonates throughout, while a cedarwood note deep in the base adds a touch of seductive masculinity.

Perfect Gift Idea for Seductive Men

Elysium Cologne from Roja Dove is the ideal Dubai gift for sensual, seductive men.

 

 
 

 

Eau de parfum

ADD TO BAG

3- Tom Ford Ombré Leather 

 

As designer Tom Ford puts it, "Ombré Leather is a deeply textural scent that imprints you with a tactile sensuality. It makes one feel different, beautiful and desired."   The tactile sensuality of rich black leather, textured with addictive patchouli and vetiver, envelops you like second skin. The perfume's floral tones of jasmine sambac conjure wild desert beauty, while layers of amber and moss mimic the heat of rock and sand.

Perfect Gift Idea for Untethered, Driven Men

Warm and spicy, Ombré Leather from Tom Ford is the ideal Dubai gift for untethered, driven men.

 

 
Eau de parfum

ADD TO BAG

4- Creed Viking

 

Invite the man in your life on a journey towards adventure with Creed Viking Eau de Parfum for men! It is the fragrance dedicated to a man who's adventurous at heart and doesn't hesitate to go against the flow. Its composition was inspired by the fearless Norse seafarers and their brave fleet. Top notes are mandarin orange, pink pepper, lemon and bergamot; middle notes are lavender, geranium, nutmeg, rosemary and sage; base notes are vetiver, sandalwood, cedar, olibanum and patchouli.

Perfect Gift Idea for Adventurous Men

An aromatic, woody fragrance, Creed Viking is created for the modern man who's not afraid to go against the flow. It is the ideal Dubai gift for adventurous men.

 

 
You'll also like:
The Most Popular Perfumes of All Time
---